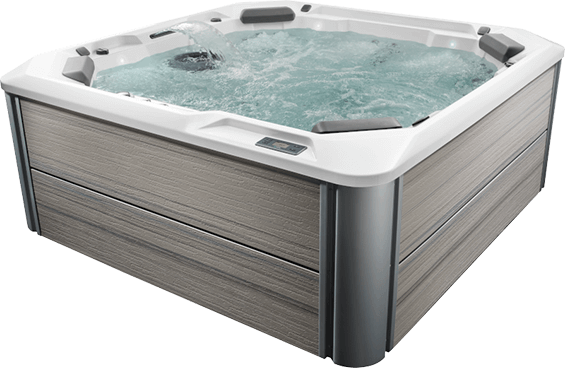 The bigger the hot tub, the bigger the price tag (generally). Larger hot tubs require more materials to build, and require larger pumps to power their jets. They also take up more space in delivery trucks and on showroom floors. What size hot tub you need depends on how you're looking to use it. A more intimate spa is great for individuals or couples, or for therapeutic uses. For family and recreational uses, a more spacious hot tub likely makes more sense.
A hot tub's features will affect it's price too. Spas can come with both functional and cosmetic features such as advanced powerful jet systems, silent circulation pumps, wireless touchscreen controls, entertainment options, and premium water care systems that reduce the need for chemicals. In addition, top-tier hot tubs often come standard with multicolored lighting and beautiful waterfalls. Simply put, more advanced quality features = higher price.
If you expect many guests, a state-of-the-art built-in audio entertainment system and colored lighting might be important. If you're looking for single-person hydrotherapy, powerful and varied jets would be a better choice.
Value priced hot tubs are often made of rotationally-molded plastic. These spas are easier to transport and cost less to build, but there are trade-offs. Rotationally-molded plastic is not as strong, nor does it insulate as well as more expensive acrylic shell hot tubs. Better tubs may also have extra layers of insulation which adds structural strength and can keep down running electrical costs over the years of ownership. The exterior of the hot tub is also important with higher quality tubs weathering the elements better than less expensive options. In a nutshell, investing in quality materials protects your investment and can actually save you money over time.
Design is another element that affects price. In many value priced hot tubs, the seating is not quite as spacious or comfortable as in a higher quality spa. Higher quality spas on the other hand are designed with ergonomic seats that keep users optimally located during hydromassage sessions. Control panels will be placed within arm's reach, and seats will be arranged to fit the maximum number of occupants comfortably. The aesthetic design is often more appealing and better serves as a backyard's centerpiece with inviting colors, textures, shapes, lines, and interior and exterior lighting. A quality hot tub is more than just an amusement, it truly becomes a part of its owner's lifestyle and daily ritual.
You may notice some value priced spas have more jets than the higher quality spas. The jets in less expensive hot tubs are usually softer and gentler in the way they massage. The best hot tubs will have less jets, but a more customizable and more powerful massage experience. They will also include quiet yet powerful circulation pumps, which move water through the filters and the heater. This makes the water cleaner with less maintenance and makes the spa more energy efficient and less costly over time. Performance ultimately affects how much you enjoy your hot tub over the many years you plan to own it.
Be careful to take note of a hot tub's warranty as not all hot tubs come with quality guarantees from their manufacturers. While up front costs may be less, a failure could see you paying for costly repairs, or even a new hot tub. A great warranty will protect the product for several years after purchase, ensuring worry-free ownership. You may also find more expensive tubs come with comprehensive service agreements from your dealer, including delivery, installation, relocation, and water-care. Simply put, the easier, quicker, and more effective your hot tub is to use, the more likely you are to want to use it regularly. By keeping your water clean and safe with regular maintenance or a built in water care system, you'll be making sure your spa continues to be a regular, relaxing part of your everyday life.